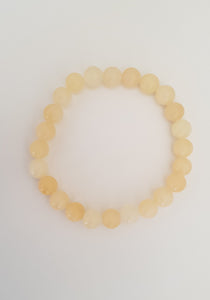 Perfect for layering, this Lemon Jade* Stretch bracelet slips on easily for comfortable everyday wear. Head over to our Personalise Your Own collection to add a dainty gold or silver charm.
Happiness - Thoughtfulness - Confidence
Need a little more sunshine in your life?

Lacking in confidence?
Lemon Jade is for you!
The stone of happiness, Yellow Jade has a warm, gentle vibe. 
It's a people connecting stone, it fosters thoughtfulness, co-operation and friendship.
It's especially great for sensitive teens that feel they don't fit in and are easily hurt by other peoples opinions. Lemon Jade will help them to "trust their gut" when it comes to making decisions for themselves.
Use this crystal when you want to bring in joy and happiness and boost your energy levels. It's gentle nature will ensure your keep your energy levels up throughout the day. 
Wear it when you're attending a social event alone, it'll help you to attract like-minded people and boost your confidence.
 Zodiac - Taurus, Gemini
Chakra - Base, Solar Plexus
Mantra "I welcome happiness, joy and like-minded people"
Bead size 8mm 

Internal diameter 52mm
One size fits all
*Please note - as these are natural stones they are all unique. Your piece may vary slightly from the picture displayed. Each crystal is intuitively chosen at the time of packing.