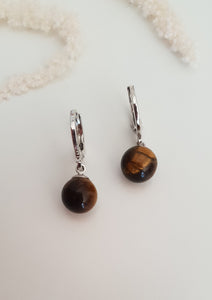 Add some elegant, protective vibes to your aura with these pretty Tigers Eye* Huggie Earrings. Featuring a delicate Tigers Eye drop they are the perfect for everyday.
Security - Protection - Prosperity
Zodiac - Leo, Capricorn

Chakra - Base, Solar Plexus

Mantra "I am strong, secure and protected"
Platinum Plated Brass
Lever back earring 11x11mm
Crystals 8mm
*Please note - as these are natural stones they are all unique. Your piece may vary slightly from the picture displayed. Each crystal is intuitively chosen at the time of packing.