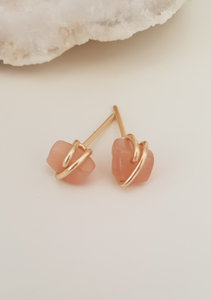 Add some loving, healing vibes to your aura with these delicate Sunstone* Wrapped Earrings. 
Leadership - Joy - Confidence
Do you believe you are a powerful creator in your life?
Need a little push to get out there and shine?
Wishing you could appear confident with others?
Reach for some Sunstone!
The stone of leadership, Sunstone reminds us to live our best life we must get out there and create it for ourselves.
Encouraging a sense of purpose and a joyful happy attitude, it attracts good luck and helps you display your talents without being boastful. It also protects you against anyone looking to exploit your good nature.
This crystal energises our sacral and solar plexus chakras, the chakras that help us with confidence and making connections with with others. It's a great support if you are new to a leadership role and it assists in establishing a positive environment and good rapport with your team.
Zodiac - Aries, Leo

Chakra - Base, Sacral, Solar Plexus
Mantra "I am a confident creator"
Tarnish Resistant Gold Plated Wire
Earring ~ 10mm
Earring backs included
*Please note - as these are natural stones they are all unique. Your piece may vary slightly from the picture displayed. Each crystal is intuitively chosen at the time of packing.