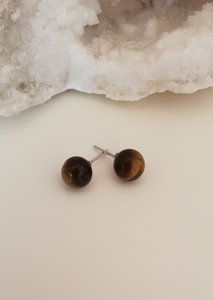 Add some grounding vibes with these delicate Sterling Silver Tigers Eye* Stud Earrings.
Security - Protection - Prosperity
Feeling uncertain?

Struggling finacially?
Need some extra protective vibes?
Welcome Tigers Eye.

The stone of security, Tigers Eye has a gentle warming, comforting energy. It increases security, stability and will power working through the base and solar plexus chakras.
It's an excellent crystal for shy teens as it enhances confidence, allows them to hold their own in a group and protects their energy.
If you are struggling with money or feeling unstable in your job or home-life Tigers Eye will help to attract situations that will improve your circumstances and allow you to find some relief and balance.
Grounding as well as energising, wearing this unique crystal will help to lift you up when your exhausted and calm you when you're overwhelmed. It's especially great for those looking for relief from anxiety.
Zodiac - Leo, Capricorn

Chakra - Base, Solar Plexus

Mantra "I am strong, secure and protected"
925 Sterling Silver
Tigers Eye 8mm
Earring backs included
*Please note - as these are natural stones they are all unique. Your piece may vary slightly from the picture displayed. Each crystal is intuitively chosen at the time of packing.