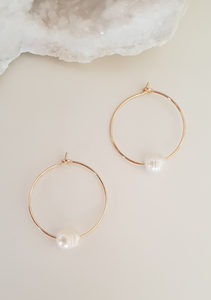 Add some elegant, feminine vibes to your aura with these pretty Solo Pearl* Hoop Earrings. 
Evolution - Protection - Healing
Feeling uncertain?

Going through changes in your life?
Need to see the bigger picture?
Try wearing Pearls.
Not a crystal or mineral, Pearls are natural jewels of the sea. They start their evolution as a tiny particle trapped in an oysters shell and end up as a luminous, delicate treasure.
Pearls remind us we are multifaceted beings. We are a work in progress and are shaped by the beautiful tapestry of life. Just as layer upon layer a grain of sand becomes a Pearl, so too we grow and are shaped by our many experiences. 
Soothing and calming Pearls are a talisman of protection and transformation, reminding us to be strong during uncertain times.
Wear Pearls when you need to embrace your story, see the bigger picture and remind yourself the best is yet to come.
Zodiac - Cancer

Chakra - Sacral, Heart
Mantra "I am on a magical journey, the best is yet to come"
18K Gold Plated Brass
Earring 29x25mm
Pearls ~ 8-10mm
*Please note - as these are natural stones they are all unique. Your piece may vary slightly from the picture displayed. Each crystal is intuitively chosen at the time of packing.