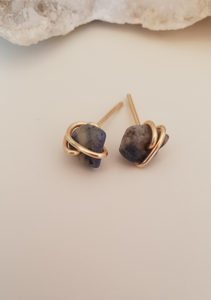 Add some elegant, decisive vibes to your aura with these delicate Sodalite* Wrapped Earrings. 
Insight - Awakening - Honesty
Finding it difficult to make a decision?
Feeling disconnected from your intuition?
Reach for some Sodalite!
The stone of insight, Sodalite has a gentle energy and opens up our communication with the universe. 
It's a wonderful crystal which grounds us while awakening the throat and third eye chakras.
Wear it if you need to make a decision but are overthinking things and can't get out of your head. It'll help you clarify your options, give you a objective view and voice your concerns as well as clearing the fears that are blocking your decision making process.
Sodalite also enhances order and practicality so it's great as a graduation gift helping with decision-making and wise choices in the big wide world.

Zodiac - Sagittarius

Chakra - Throat, Third Eye
Mantra "I have the answers, I trust myself and the universe"
Tarnish Resistant Gold Plated Wire
Earring ~ 10mm
Earring backs included
*Please note - as these are natural stones they are all unique. Your piece may vary slightly from the picture displayed. Each crystal is intuitively chosen at the time of packing.