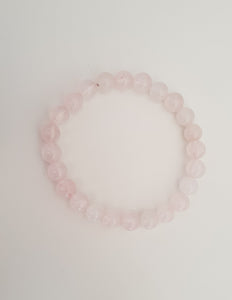 Perfect for layering, this Rose Quartz* Stretch bracelet slips on easily for comfortable everyday wear. Head over to our Personalise Your Own collection to add a dainty gold or silver charm.
Healing - Love - Acceptance
Has your heart been broken?
Need a little extra tenderness in your life?
Reach for some Rose Quartz.
Known as the 'love stone' Rose Quartz holds the energy of unconditional love and is great for supporting self-love and forgiveness. It awakens the heart chakra and gently helps release any energy limiting our ability to love.
Wear this stone to soothe emotional trauma and heal if you've been hurt in love or if you tend to be too hard on yourself and always put your needs last.
Zodiac - Taurus, Cancer, Libra, Scorpio
Chakra - Heart
Mantra "I offer loving vibes to myself and others"
Bead size 8mm 

Internal diameter 52mm
One size fits all
*Please note - as these are natural stones they are all unique. Your piece may vary slightly from the picture displayed. Each crystal is intuitively chosen at the time of packing.