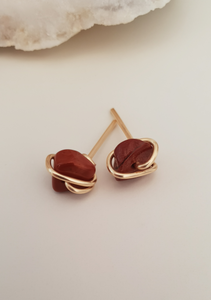 Add some energetic vibes to your aura with these delicate Red Jasper* Wrapped Earrings. 
Security - Courage - Energy
Wanting to feel secure in your decisions and direction?
Needing a boost of energy?
Finding it hard to stay grounded?
Reach for some Red Jasper!
The stone of security, Red Jasper allows it's wearer to confidently stand up for themselves while keeping their composure. It has an interesting energy as it grounds and energises your aura at the same time. It's gentler than other red crystals so it won't have you going from zero to hero and losing your head.
It has a beautiful warm energy and helps to gently get you going if you are feeling a little lack luster.
Wear it to bring a can-do attitude into your life and to attempt any challenging projects or enter new situations you are anxious about. It'll work with you at your own pace to help you remain confident and courageous in the face of adversity.
Zodiac - Aries

Chakra - Base, Sacral
Mantra "I am grounded and courageous"
Tarnish Resistant Gold Plated Wire
Earring ~ 10mm
Earring backs included
*Please note - as these are natural stones they are all unique. Your piece may vary slightly from the picture displayed. Each crystal is intuitively chosen at the time of packing.