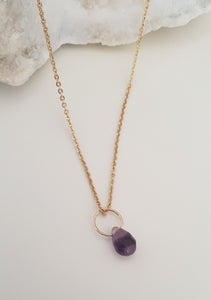 Add some elegant, protective vibes to your aura with this dainty Purple Fluorite* Teardrop Necklace. Wear with the Ra Necklace for the ultimate protective amulet.
Psychic ability - Order - Protection

The stone of psychic clarity, Purple Fluorite focuses its energy on balancing the third eye chakra, bringing order and harmony to your energy field to make way for 'aha' moments.
It combines spirituality with practicality, after all it's no use gaining spiritual insights if we have no way of applying them to make everyday life easier. Use it with your oracle or tarot cards when doing a reading. It'll help you access spiritual guidance and understand how to apply it to your life.
Extremely protective, wear Purple Fluorite if you believe someone is playing mind games with you. It will help you to recognise and eliminate any negative influence this person has over you.
It's also great at blocking EMF pollution, so it's good to wear if you are on your phone for the majority of the day. It may even assist in initiating a digital detox.
Zodiac - Pisces

Chakra - Throat, Third eye, Crown
Mantra "Through a higher power I find order and harmony"
18K Gold Plated Brass
Necklace 46cm 18.1"
Gold hoop 14K gold fill
Crystal Drop 9mm
Lobster clasp closure
*Please note - as these are natural stones they are all unique. Your piece may vary slightly from the picture displayed. Each crystal is intuitively chosen at the time of packing.