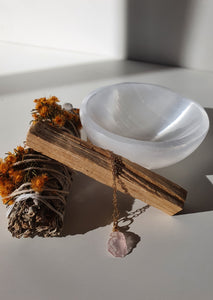 Looking for a present for an overworked mama?
My self-care boxes are perfect for a little energy cleansing and positive loving vibes.
This gift box contains;
1x Selenite Bowl for cleansing crystals and jewellery 
1x Floral Sage Stick and Palo Santo for room and personal cleansing 
1x 18" Plated Rose Quart Necklace in your choice of gold or silver
AND a lovely hand written note for that special mama you want to spoil!
Once purchased please contact me at info@gemsbynadia.com with the words you'd like me to include in your note.