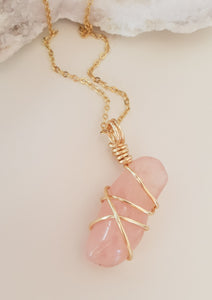 Add some elegant, loving vibes to your aura with this Morganite Wrapped Necklace.
Nurturing - Boundaries - Friendship
Feeling like a door mat?
Disappointed with the way people treat you?
Need some nurturing energy in your life?
Morganite is for you!
This peachy pink crystal has a beautiful loving and tender energy. It reminds me of candy and is just as sweet! 
For anyone that struggles putting their needs first, Morganite will help define your energetic boundaries so that you don't deplete yourself.
Wear this stone to attract people into your life that will treat you with the respect you deserve. If you've had enough of energy vampires draining the life out of you wear Morganite around your neck like a clove of garlic and get rid of them for good!
Gift this crystal to a friend going through a hard time as a symbol of your loving support.
Zodiac - Taurus & Libra
Chakra - Heart
Mantra "I am worthy of love and respect"
Necklace 18K Gold Plated Brass 61cm 24"
Crystal Tarnish Resistant Gold Plated Copper Wire ~ 33x14cm
Lobster clasp closure