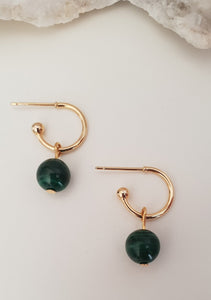 Add some elegant, loving vibes to your aura with these delicate Malachite* Drop Huggie Earrings. 
Transformation - Protection - Love
Have you recently suffered heartbreak?

Shut down your heart to love?
Ignoring your feelings?
You need Malachite.
The stone of love and protection, Malachite's like a little guardian angel for your heart. It'll get to work on healing your heart chakra so you feel safe to love again.
It'll encourage you to give love a go, not out of loneliness or necessity but out of desire for a healthy, loving relationship. This crystal eliminates the neediness around having to 'find' a partner and patterns of co-dependence in love. 
Wear it the next time you are invited out with friends, it'll help you to keep your heart open and protect it at the same time.
 Zodiac - Scorpio
Chakra - Heart
Mantra "It's safe to follow my heart"
18K Gold Plated Brass; Nickel Free
Earring  L x W 12x12mm
Crystal 15mm; charms fully removable
Earring backs included; Nickel Free
*Please note - as these are natural stones they are all unique. Your piece may vary slightly from the picture displayed. Each crystal is intuitively chosen at the time of packing.