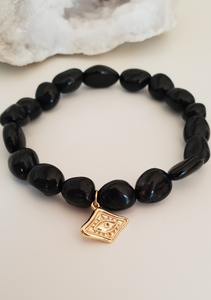 This special Limited Edition bracelet was designed by my son Liam especially for Mother's Day. Featuring polished Black Tourmaline beads and a beautiful gold plated evil eye charm, it's the perfect way to say 'I love you' to your Mum. Read more about the properties of Black Tourmaline* below.
Purification - Protection - Grounding
Are you sensitive to the energy around you?
Do you often feel drained when dealing with others?
Black Tourmaline is for you!
The stone of purification, Black Tourmaline has a super grounding and protective vibe. 
If you are an empath this is a must have crystal. It's fantastic for absorbing any toxic energy that isn't yours and particularly helpful for blocking energy vampires that unknowingly draw on your energy for their own purposes. 
Wear Black Tourmaline everyday if you feel you keep giving your energy away. It will help you break any negative patterns or unhealthy energetic ties you have to others.
Zodiac - Libra, Scorpio
Chakra - Base
Mantra "I release negativity and any attachments that no longer serve me"
Bead size 8mm 

Internal diameter ~ 52mm
One size fits all
*Please note - as these are natural stones they are all unique. Your piece may vary slightly from the picture displayed. Each crystal is intuitively chosen at the time of packing.