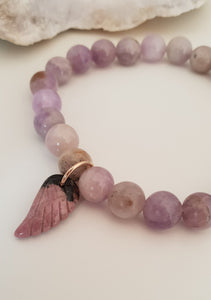 This special Limited Edition bracelet was designed by my son Liam especially for Mother's Day. Featuring Lavender Jade beads and a beautifully carved Rhodonite Feather charm, it's the perfect way to say 'I love you' to your Mum. Read more about the properties of Lavender Jade* and Rhodonite* below.
Lavender Jade          Angels - Purity - Compassion
Rhodonite          Nurturing - Emotional Balance - Forgiveness
Finding it hard to be compassionate with yourself and others?

Need some guidance?
Lavender Jade is for you!
The stone of Angels, Lavender Jade attracts divine guidance and angelic beings. Perfect if you are attending a spiritual retreat or trying to raise your vibration through meditation.
It's know for spiritual purification and calls in the Goddess of compassion, mercy and unconditional love, Kwan Yin, encouraging grace and charitable actions.
Highly emotionally cleansing, Lavender Jade is great to wear if you are burdened with intense emotions and not getting along with friends or family, it brings in peace and helps set emotional boundaries.
Zodiac - Taurus, Aquarius, Pisces, Capricorn
Chakra - Heart, Third Eye, Crown
Mantra "I am divinely guided by compassion"
 Bead size 8mm 
Internal diameter 52mm
One size fits all