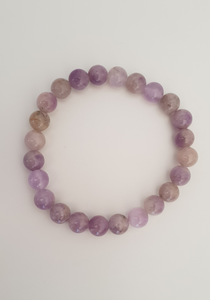 Perfect for layering, this Lavender Jade* Stretch bracelet slips on easily for comfortable everyday wear. Head over to our Personalise Your Own collection to add a dainty gold or silver charm.
Angels - Purity - Compassion
Finding it hard to be compassionate with yourself and others?

Need some guidance?
Lavender Jade is for you!
The stone of Angels, Lavender Jade attracts divine guidance and angelic beings. Perfect if you are attending a spiritual retreat or trying to raise your vibration through meditation.
It's know for spiritual purification and calls in the Goddess of compassion, mercy and unconditional love, Kwan Yin, encouraging grace and charitable actions.
Highly emotionally cleansing, Lavender Jade is great to wear if you are burdened with intense emotions and not getting along with friends or family, it brings in peace and helps set emotional boundaries.
Zodiac - Taurus, Aquarius, Pisces, Capricorn
Chakra - Heart, Third Eye, Crown
Mantra "I am divinely guided by compassion"
Bead size 8mm 

Internal diameter 52mm
One size fits all
*Please note - as these are natural stones they are all unique. Your piece may vary slightly from the picture displayed. Each crystal is intuitively chosen at the time of packing.