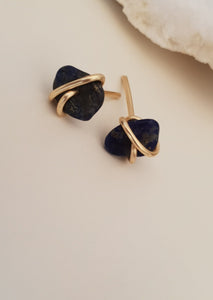 Add some elegant, insightful vibes to your aura with these delicate Lapis Lazuli* Wrapped Earrings. 
Problem-solving - Truth - Communication
Feeling like you can't speak up?
Going through a difficult time?

Reach for some Lapis Lazuli!
The stone of truth, Lapis Lazuli is a powerful stone emanating a chill vibe that allows you to work on getting comfortable sharing your thoughts. 
Deeply protective Lapis Lazuli will have your back if you are entering a group situation and are feeling fearful or nervous about expressing yourself. It will give you the clarity to think and communicate well.

Wear this crystal if you need some direction. It'll help you to go within and trust your inner-knowing, allowing you to solve problems and clear any negative beliefs or patterns that are holding you back from shining your light.
Zodiac - Sagittarius, Libra

Chakra - Throat, Third Eye
Mantra "I can go within and communicate from my intuition in any situation"
Tarnish Resistant Gold Plated Wire
Earring ~ 10mm
Earring backs included
*Please note - as these are natural stones they are all unique. Your piece may vary slightly from the picture displayed. Each crystal is intuitively chosen at the time of packing.