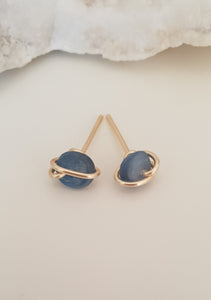 Add some elegant vibes to your aura with these delicate Blue Kyanite* Wrapped Earrings. 
Clarity - Truth - Courage
Always thinking of others before yourself?
Can't seem to stand up for yourself and speak your truth?
Always swayed by others opinions?
Welcome our crystal friend Kyanite.
The crystal of clarity in communication, Blue Kyanite is the truth-seeking crystal. It helps you get right to point, speak with confidence and stay connected to your truth.
This crystal is serious high vibe**, in fact one of the highest vibe throat chakra stones, it does not need cleansing as it doesn't hold onto negative energy. 
Wear it when you need to speak up for yourself or engage in any kind of negotiation with an individual or group. It'll help keep your wits about you and stay true to yourself. It works wonders when dealing with verbally forceful or manipulative individuals too.
It's also great for sensitive kids and teens that have trouble asserting themselves.
Use it while meditating to increase your psychic awareness and download information from higher sources.
Zodiac - Pisces, Aquarius
Chakra - Throat, Third Eye
Mantra "I trust myself and I'm calm and clear in my communication"
Tarnish Resistant Gold Plated Wire
Earring ~ 10mm
Earring backs included
*Please note - as these are natural stones they are all unique. Your piece may vary slightly from the picture displayed. Each crystal is intuitively chosen at the time of packing.
 **This crystal has a very high vibe. To begin with wear it for short periods of time to allow yourself to adjust to it's energy.