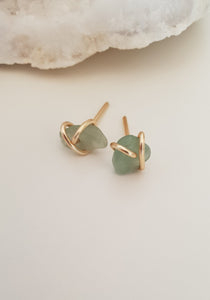 Add some elegant, strengthening vibes to your aura with these delicate Green Jade* Wrapped Earrings. 
Protection - Strength - Health
 Looking to attract better health?
Struggling to find that work-life balance?
Not looking after yourself properly?
Reach for some Green Jade!
The stone of protection and purity, Green Jade promotes wellness by strengthening our aura.
It's a great crystal for people that are often unwell as it's always been regarded as a talisman of health, prosperity and protection.
If you enjoy outdoor meditation wear Green Jade. It'll help connect you with the healing energy of Mother Earth and clear away any negative energy you've been holding onto.
Zodiac - Taurus

Chakra - Base, Heart
Mantra "I welcome prosperity and good health"
Tarnish Resistant Gold Plated Wire
Earring ~ 10mm
Earring backs included
*Please note - as these are natural stones they are all unique. Your piece may vary slightly from the picture displayed. Each crystal is intuitively chosen at the time of packing.