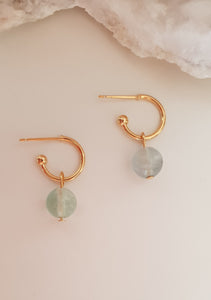 Add some healing vibes to your aura with these delicate Green Fluorite* Drop Huggie Earrings. 
Emotional Healing - Renewal - Cleansing  
Feeling like you need some extra energetic protection?

Need a refresh?  
The stone of emotional healing and protection, Green Fluorite cleanses the most toxic environments and emotions.

When worn as jewellery it neutralises EMF pollution and helps to deflect negativity from co-workers. Wear it to the office as a powerful protective talisman. You may also find it's easier to think on your feet when wearing this crystal as it promotes quick thinking and fresh innovative ideas.
It's the perfect crystal to unburden yourself of heavy unresolved emotions, grief and childhood trauma. It works with the heart chakra to bring what needs to be released to the surface and opens your heart to love, helps you attract a stable partner and grow a beautiful relationship.

Zodiac - Pisces
Chakra - Heart
Mantra "I feel cleansed and I'm ready to heal"
18K Gold Plated Brass; Nickel Free
Earring  L x W 12x12mm
Crystal 15mm; charms fully removable
Earring backs included; nickel free
*Please note - as these are natural stones they are all unique. Your piece may vary slightly from the picture displayed. Each crystal is intuitively chosen at the time of packing.