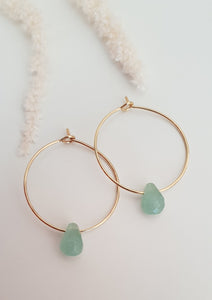 Add some elegant, abundance vibes to your aura with these delicate Green Aventurine* Hoop Earrings

Abundance - Growth - Opportunity
Feel like you never have enough money?
Like you are always struggling to make ends meet?
Say hello to Green Aventurine! 
The stone of abundance, Green Aventurine reminds me of the rolling hills of Ireland, expansive, rich, green and full of life. It's often associated with money, luck and wealth which makes it many peoples' go-to crystal for making money.
Closely connected to nature it's tranquil vibes encourage us to be open to abundance and prosperity. Just as a sapling is open to receiving nourishment from the earth and unassumingly continues to grow, so should we be open to abundance from the universe in all its forms.
How do we do this? Glad you asked! We recognise and celebrate abundance wherever we see it. Yes, money is one of these forms but so is a smile from a stranger or a kind act.  The universe will always give if we are willing and open to receive, and this crystal will assist you in changing your mindset of lack and trusting the universe will always provide.
Wear this necklace during your daily gratitude ritual and watch the universe send opportunities your way.

Zodiac - Taurus, Virgo
Chakra - Heart
Mantra "I am open to abundance"
18K Gold Plated Brass
Earring 29x25mm
Crystal Drop 9mm
*Please note - as these are natural stones they are all unique. Your piece may vary slightly from the picture displayed. Each crystal is intuitively chosen at the time of packing.