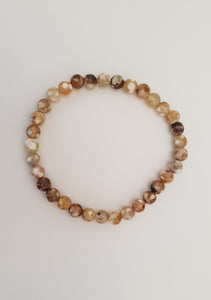 Perfect for layering, this Fire Agate* Stretch bracelet slips on easily for comfortable everyday wear. Head over to our Personalise Your Own collection to add a dainty gold or silver charm.
Creativity - Courage - Protection
Calling all creatives!!
Do you often experience creative blocks?
Are you working on a project and need some inspiration?
Look no further than Fire Agate.
Deeply grounding and protective this stone is closely linked to the energy center that holds all our creative power, the sacral chakra. It offers courage and strength, pushing us to fearlessly pursue our passions and reignite our zest for life.
No one will mess with you when using this crystal! It shields your energy sending any negativity directed at you straight back to it's source.

Wear it if you want to get your creativity flowing and feel you need help birthing an idea. If you can't figure out how to make your idea a reality Fire Agate will help get you out of your head and surrender to divine inspiration.

Zodiac - Aries, Gemini, Scorpio

Chakra - Sacral

Mantra "I trust in the creative process. I am open and ready to receive inspiration"
Bead size 6.5mm 

Internal diameter 52mm
One size fits all
*Please note - as these are natural stones they are all unique. Your piece may vary slightly from the picture displayed. Each crystal is intuitively chosen at the time of packing.