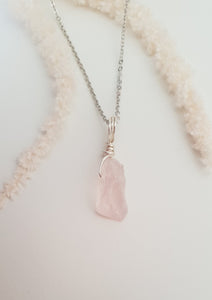 Add some elegant, compassionate vibes to your aura with this Raw Rose Quartz Wrapped Necklace. 
Healing - Love - Acceptance
Has your heart been broken?
Need a little extra tenderness in your life?
Reach for some Rose Quartz.
Known as the 'love stone' Rose Quartz holds the energy of unconditional love and is great for supporting self-love and forgiveness. It awakens the heart chakra and gently helps release any energy limiting our ability to love.
Wear this stone to soothe emotional trauma and heal if you've been hurt in love or if you tend to be too hard on yourself and always put your needs last.
Zodiac - Taurus, Cancer, Libra, Scorpio
Chakra - Heart
Mantra "I offer loving vibes to myself and others"
18K Platinum Plated Brass
Necklace 40.6cm 16"
Crystal Tarnish Resistant Silver Plated Copper Wire ~ 7x15mm
Lobster clasp closure