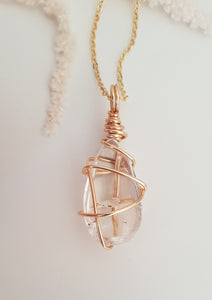 Add some centering, meditative vibes to you aura with this Lodolite Wrapped Necklace. 
Meditation - Transformation - Spirit guides
Feeling uncertain about your future?
Looking for some higher guidance?
Ready to start healing old emotional wounds?
Welcome our crystal friend Lodolite.
When your mediation practice just feels off reach for this stone. Clear quartz with a variety of mineral inclusions each stone is different in its appearance. This crystal is perfect for lulling you into a meditative state and facilitating communication with your spirit guides. It also protects our aura and removes fear during uncertain times.
A powerful healer it releases repressed emotions and replaces them with loving, compassionate energy. As a catalyst for deep transformative soul work wear it during meditation and then journal about any feelings, thoughts or visions that come to the surface.
Zodiac - Scorpio, Aquarius
Chakra - Crown
Mantra "I am open to healing and connected to higher guidance"
Gold Plated Brass Chain 50.8cm 20"

Tarnish Resistant Gold Plated Copper Wire

Crystal ~ 17x30mm

Lobster clasp closure