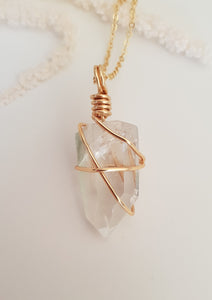 Add some elegant, cleansing vibes to your aura with this Clear Quartz Wrapped Necklace.
Balance - Cleansing - Healing
Feeling run-down?
Weighed down with life's problems?
Need a refresh?
Clear Quartz is for you!
Known as 'the master crystal' Clear Quartz is like a vacuum cleaner clearing and transmuting all the debris in your aura leaving you refreshed and cleansed. It's holistic healing in crystal from as it brings both the mind and body into balance.
This stone is perfect if you are in need of a reset. It not only recalibrates all the chakras but it also redistributes energy to where your body needs it most.  It is physically and emotionally detoxifying and dissolves any energy blockages that are holding you back. I often suggest Clear Quartz to my Reiki clients as support between treatments, it's a wonderfully healing stone.
Great as a gift for someone just stating out with crystals, Clear Quartz is one of those essential stones that everyone should have in their crystal tool kit. Very versatile, it can be programmed to act like another crystal and it will amplify the energy of any crystal it's worn with.
Wear Clear Quartz and use it as a tool to keep you focused on the intentions you set yourself. Cleanse your piece on a Selenite plate overnight. In the morning set your intentions for the day while holding your crystal piece, then wear it as a reminder throughout the day.
Use Clear Quartz while meditating if you'd like a holistic healing experience, to release low vibes and to connect with your higher self. 
Make sure you regularly cleanse your Clear Quartz jewellery piece, so it's always fresh and ready to work it's magic.
Zodiac - All
Chakra - Crown/All
Mantra "I am cleansed and pure, I am a free flowing vessel for universal energy"
Necklace 18K Gold Plated Brass 51cm 20"
Crystal Tarnish Resistant Gold Plated Copper Wire ~ 17x28mm
Lobster clasp closure