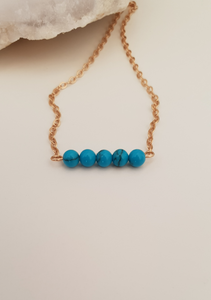 Add some elegant, vibes to your aura with this dainty Turquoise* Bar Bracelet. Featuring a 18K gold gold plated chain, and five Turquoise** beads wear it on it's own or stacked with other bracelets. 
 Cleansing - Empowerment - Protection
Zodiac - Sagittarius, Capricorn
Chakra - Heart, Throat
Mantra "I face my fears and release my energetic blocks"
Bracelet 18K Gold Plated Brass 
Adjustable

1

8-20.5cm 7-8"

14K Gold Filled Pin
Bar Length 17mm
Bead size 4mm
Lobster clasp closure
*Please note - as these stones are all unique. Your piece may vary slightly from the picture displayed. Each crystal is intuitively chosen at the time of packing. 
**Chinese Turquoise is a reconstituted form of Turquoise that has been stabilised for use in jewellery.