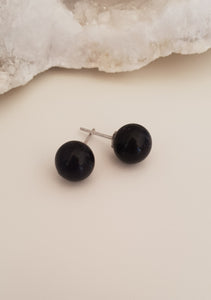 Add an energy boost to your aura with these delicate Sterling Silver Blue Goldstone* Stud Earrings.
Manifestation - Amplifying - Protection
Feeling like your career's going nowhere?
Need an extra boost of ambition?
Blue Goldstone is for you!
Not technically a crystal Blue Goldstone is man-made and contains copper and coloured glass. As copper conducts energy, it imparts Blue Goldstone with magnificent manifesting and energising potential and helps it to protect its wearer.
It's exceptional at providing that little bit of extra ambition to help you start chasing your dreams.
When you have an idea you'd like to manifest wear Blue Goldstone while you visualise it come to life. It'll add an extra boost to your manifesting abilities.
Wear this crystal if you are scared of the dark or afraid of being left alone at night. It's a great to wear as protection if you have to travel alone at night or if you regularly travel for work and are constantly sleeping in unfamiliar places. It'll deflect negativity, help recalibrate your energy and keep you grounded.
Use it as a lucky amulet if you work in acting, theater, as a performer or in any occupation that involves addressing an audience. It will energise you and help you shine.
Mantra - "I am safe to shine my light"
Zodiac - Sagittarius
Chakra - Base, Solar Plexus, Throat
925 Sterling Silver
Blue Goldstone 8mm
Earring backs included
*Please note - as these are natural stones they are all unique. Your piece may vary slightly from the picture displayed. Each crystal is intuitively chosen at the time of packing.