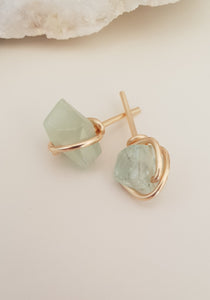 Add some elegant, calming vibes to your aura with these Aquamarine* Wrapped Earrings.
Playfulness - Calm - Emotional Healing
Do you feel like you need to control every single part of your life?
Are your emotions easily triggered?
Can't let go of the past?
Aquamarine is for you!
The stone of playfulness and calm, Aquamarine brings in a joyful child-like vibe. 

Closely associated with the sea Aquamarine reminds us to stop resisting life and be free and flowing just like the ocean. When we are aligned we release control, feel calmer and find joy in every moment.
Wear this crystal if you feel like you've been hard done by or not treated fairly. It'll help to calm your fears and flow with life instead of making assumptions of how it should be. It's a fantastic crystal for letting go. Whether that be letting go of old attachments, habits, emotions or thought processes. As this crystal helps with deep emotional healing it can be great to wear if you are grieving a lost relationship or loved one. It will gently help you release any emotions you are feeling whilst still honouring the beautiful memories you have.
Aquamarine's soothing, calm vibes really help if you tend to be fiery and reactive in difficult situations. It'll help snuff out those explosive emotions so you can resolve problems calmly and rationally.
Zodiac - Scorpio, Pisces

Chakra - Throat
Mantra "I release control and step into my joy"
Tarnish Resistant Gold Plated Wire
Earring ~ 10mm
Earring backs included
*Please note - as these are natural stones they are all unique. Your piece may vary slightly from the picture displayed. Each crystal is intuitively chosen at the time of packing.