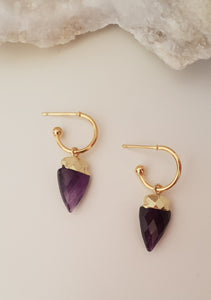 Vibrant yet understated these Amethyst* Huggie Earrings are the perfect piece for your curated ear. Wear with the Bar Stud for effortless style.
 Spirituality - Calm - Meditation
Zodiac - Aries, Aquarius, Pisces
Chakra - Third Eye, Crown
Mantra "My mind is at ease"
14K Gold Plated 316 Surgical Stainless Steel
Hypoallergenic
Earring  L x W 11x18mm
Crystal Drop 15mm
Crystals are removable from hoops
*Please note - as these are natural stones they are all unique. Your piece may vary slightly from the picture displayed. Each crystal is intuitively chosen at the time of packing.