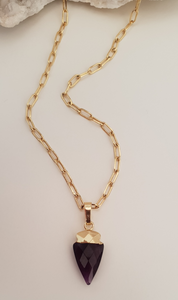 Add some elegant, calming vibes to your aura with this dainty Amethyst* Necklace. Featuring a delicate 5mm paperclip chain, layer it with multiple chains for a luxe boho look.
Spirituality - Calm - Meditation
Stressed out and anxious?
Can't seem to stop overthinking?
Are you ready to start healing?
Welcome our Zen crystal friend Amethyst.
The crystal of chill vibes, Amethyst is the ultimate meditation crystal. It helps to quiet the chatter in your head, slow down your thoughts and bring you back to the present moment. A protective crystal, this stone purifies and wards off negative energy.
Wear it when you want to commit to deepening your spirituality, start healing and rid yourself of any negative influences. Amethyst will help you to lessen all the addictive distractions of our modern day world, allow you center yourself and release built up stress, anxiety and tension.
Zodiac - Aries, Aquarius, Pisces
Chakra - Third Eye, Crown
Mantra "My mind is at ease, I choose to heal"
18K Gold Plated Brass 5mm Paperclip Chain
Necklace adjustable 40.5-48cm 16"-19"
Crystal Drop 25mm
Lobster clasp closure
*Please note - as these are natural stones they are all unique. Your piece may vary slightly from the picture displayed. Each crystal is intuitively chosen at the time of packing.