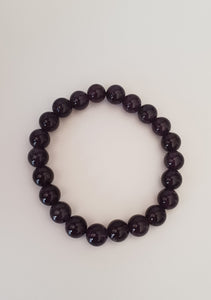 Perfect for layering, this Amethyst* Stretch bracelet slips on easily for comfortable everyday wear. Head over to our Personalise Your Own collection to add a dainty gold or silver charm.
Spirituality - Calm - Meditation 
Zodiac - Aries, Aquarius, Libra, Pisces
Chakra - Third Eye, Crown
Mantra "My mind is at ease"
Bead size 8mm 

Internal diameter 52mm
One size fits all
*Please note - as these are natural stones they are all unique. Your piece may vary slightly from the picture displayed. Each crystal is intuitively chosen at the time of packing.