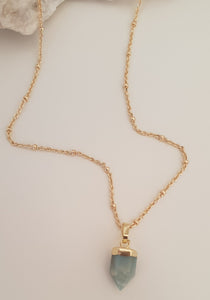 Vibrant yet understated this Amazonite* Point Necklace is one of my most popular pieces. Layer with multiple necklaces for a luxe boho look.
Truth - Expression - Confidence
Fallen into a rut?
Can't seem to get any relief from the daily grind?
Amazonite is for you!
It'll give you the courage to embrace change and seek more balance in your life. This stone will help you get real with yourself and start exploring what brings you joy from within. Not only will it connect you with your inner truth, it'll help you express it with confidence and grace. Amazonite allows you to speak from the heart and to start doing what you love melting away those limiting beliefs and fear that is stopping you moving forward.
Wear Amazonite at a job interview or in a meeting to discuss a new venture and as EMF protection.
Amazonite is fantastic for inner work and releasing buried emotions. Meditate with it if you are feeling off but unsure why. It'll help you to illuminate the emotion and express what you are feeling. If you still can't seem to get relief wear it for a little while to see what emotions it brings up.
Zodiac - Virgo, Sagittarius, Capricorn
Chakra - Heart, Throat
Mantra "I speak my truth with courage and grace"
18K Gold Plated Brass; Nickel Free
Necklace 46cm 18.1"
Crystal Drop 24mm
Lobster clasp closure
*Please note - as these are natural stones they are all unique. Your piece may vary slightly from the picture displayed. Each crystal is intuitively chosen at the time of packing.