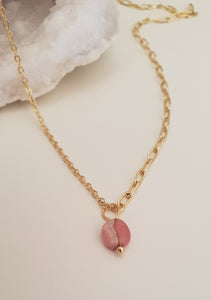 Vibrant yet understated this Rhodochrosite* Necklace features a dainty 8mm paperclip and cable chain. Layer with multiple necklaces for a luxe boho look.
Unconditional Love - Compassion - Positivity
Have you been working on healing your heart chakra?
Concentrating on accepting where you're at in life and enjoying every moment?
Are you ready for new love?

Rhodochrosite is for you!
The stone of compassionate love it inspires acceptance, holding vibes of supportive and unconditional love, reminding us love can conquer all.
Rhodochrosite is a beautiful heart centered crystal which helps us with nurturing, non-judgmental love. Often we give love but fail to be open in receiving it. This crystal helps us to love ourselves so we are able to exist in healthy relationships with others. Through practicing self-love we are able to give ourselves what we often look for in a partner to provide.
Rhodochrosite's vibe inspires playfulness, joy and an openness to vulnerability and intimacy. Wear this crystal when you are ready to attract and share true love, a love that is everlasting.
Zodiac - Scorpio, Sagittarius

Chakra - Solar Plexus, Heart
Mantra "I am ready to let someone special into my life and share my love"
Necklace 18K Gold Plated Brass 

with extender chain 39-45 cm (15.5"-17.5")

5mm paperclip chain and 2mm cable chain 

Crystal Drop ~ 15mm
Lobster clasp closure
*Please note - as these are natural stones they are all unique. Your piece may vary slightly from the picture displayed. Each crystal is intuitively chosen at the time of packing.