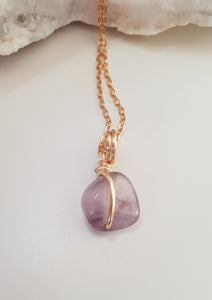 Add some elegant, soothing vibes to your aura with this delicate Mini Amethyst* Wrapped Necklace. 
Spirituality - Calm - Meditation
Zodiac - Aries, Aquarius, Pisces
Chakra - Third Eye, Crown
Mantra "My mind is at ease"
18K Gold Plated Brass Chain 46cm 18"
Tarnish Resistant Gold Plated Copper Wire
Crystal ~ 12x13mm
Lobster clasp closure

Please note that as crystals are unique your purchase may differ slightly from the Amethyst pictured. Each crystal is chosen intuitively at the time of purchase.