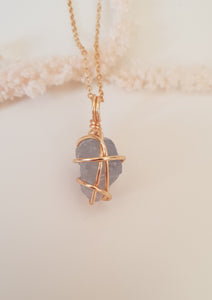 Add some elegant, soothing vibes to your aura with this Celestite Wrapped Necklace. 
Clarity - Intuition - Calm
Stressed out and looking for guidance?
Are you being drawn to develop your intuition?

Wanting to begin a meditation practice but don't know how?
Welcome our high vibe crystal friend Celestite.
The stone of divine guidance and inspiration, Celestite offers calming and comforting vibes to help you open your mind to higher guidance.
When the world get a little bit too hectic this is the perfect crystal to bring in feelings of peace and well-being, I love using this crystal to help me get in touch with my angels, you'll be amazed at the synchronicities and rainbows I see everywhere when I've been wearing it!!
Wear whilst meditating to quiet your mind and receive guidance from your higher self and spiritual team.

Zodiac - Libra
Chakra - Throat, Third Eye, Crown
Mantra "I trust the universe and in Divine timing "
18K Gold Plated Brass Chain 46cm 18"
Tarnish Resistant Gold Plated Copper Wire
Crystal ~ 18x14 mm
Lobster clasp closure