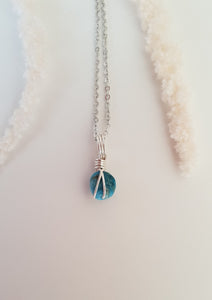 Add some elegant, manifestation enhancing vibes to your aura with this delicate Blue Apatite Wrapped Necklace. 
Motivation - Expression - Balance

Feeling Unmotivated?
Impatient?
Wishing your desires would manifest sooner?
The stone of motivation and balance Blue Apatite reminds us when we keep an open mind and positive focus we can achieve anything we want. What does Blue Apatite want us to know? It's the organising of our thoughts and deliberate focus which will bring in divine inspiration and take us closer to our goal.

A great crystal for students and those approaching retirement age, this stone helps us retain information, approach life with a balanced outlook, let go of the past, align with our personal power and keep our sights focused on the road ahead.
Wear Blue Apatite for increasing your energy and motivation during times of change and easing transitions by soothing worry, irritability and emotional exhaustion. It's great for balancing the throat chakra and enhancing communication allowing us to speak clearly when trying to get our point across. It has a beautiful uplifting energy that enhances positive dialog. 
Zodiac - Gemini & Libra
Chakra - Base, Throat, Third Eye
Mantra "I am balanced and motivated"
Necklace Platinum Plated Brass 40cm 

16"

Long lasting silver plated copper wire
Crystal Drop ~10mm
Lobster clasp closure